Space boobs, sex robots, and a primitive state of neurotic irresponsibility
On Barbarellas both flesh and electric.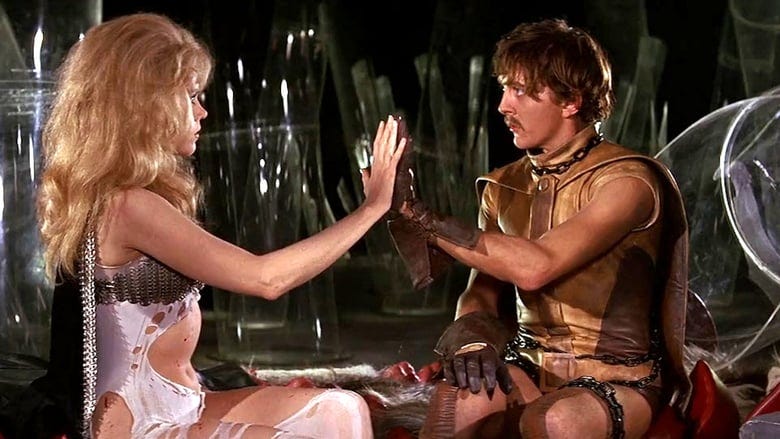 I actually have book stuff to talk about for once!
First, it officially came out in the US on Tuesday, although it's been trickling out to people who pre-ordered it for a couple of weeks now. The actual release date felt a little anticlimactic and gave me a few flashbacks to some of the more sparsely attended birthday parties of my unpopular childhood and adolescence, but I'm doing my best not to dwell on that. Both because I don't want to dishonour the incredible support and response I have received, and because I can think of fewer things more annoying than a no-name writer being sad that her little book didn't get more attention during the fucking apocalypse.
I also recorded an interview for The Ottawa International Writers Festival, which goes live at 12pm eastern today. We recorded about fifty minutes of material for a twenty-ish minute segment and I have no idea what will make the final cut. But here is a brief list of topics that might be discussed: autism, disability writing, the need for more autistic voices in conversations and art about autism, not speaking for all autistic people, empathy, Kids in the Hall, ChocoPro wrestling, anthropomorphized finishing moves, Robert Vaughn's memoirs, and Jane Fonda's boobs.
Finally, I'll be appearing on a panel at this year's virtual Word on the Street festival. "Celebrating Our Differences" with Amanda Leduc and moderated by Syrus Marcus Ware will stream from 12-12:45pm eastern on Sunday, September 27. I have some concerns that I'm out of my depth here, but I'll do my best to keep up with these two brilliant minds.
And on that note, I've chosen to dedicate this week's newsletter to space boobs and robot fucking.
Movie of the Week: Barbarella (1968)
I realize that this is probably says something about me that I'd prefer not to confront, but my taste in art and pop culture has remained fairly stable since my teens. My interests have expanded over the years, and there are a few "oh god, what was I thinking" albums lingering in my CD collection, but I formed very few aesthetic opinions during my adolescence and early adulthood that haven't stuck.
Teenage Sarah was glaringly, baffling wrong when she dismissed Barbarella as a boring letdown and failed to wallpaper her bedroom with Jane Fonda posters, though.
Barbarella left such a first non-impression on me that not even my conversion into a full-blown Duranie a few years ago managed to pique my interest. Sure, it was where they got their name. Yes, their deliciously ridiculous and wanky 1985 concert film, Arena: An Absurd Notion, was technically its sequel. But any time spent watching Barbarella was time I would be spending not watching Arena again, and that just seemed like a waste.
I might never have revisited it had it not appeared on the Criterion Channel just as I descended into a mood so low that I could no longer bear to watch anything that was too depressing or nihilistic, or complex enough to require more than a baseline engagement. As everything on my substantial watch list at the time was at least one of those things, I figured I had no choice but to try to watch the space bimbo movie again.
As far as I can recall, this is the only truly good thing depression has ever done for me.
I fell imprudently in love/lust with Barbarella during the opening credit's equally silly and alluring zero gravity spacesuit striptease.
I fell even harder when she awkwardly tried to salute the president of Earth while naked and juggling multiple armfuls of space weapons. And when she almost got eaten by creepy dolls. And when she started singing to herself after discovering the joys of old school sex where you take your clothes off. And when she fucked the will to fly back into an angel. And when she had literally hair-curling clothes-on future pill sex with a dude in a cape and panties named Dildano. And when she broke a machine designed to make you orgasm to death with her boundless horniness.
I have no idea what the fuck my younger self was thinking, although I suspect my problem might have been that I wasn't ready for this movie's batshit sincerity back then. I was still into irony at the time, and was likely hoping for something unintentionally absurd in the so-bad-its-good vein. But everyone involved in Barbarella — or at least everyone on camera — seems throughly committed to their bullshit, so disarmingly earnest about it. Fonda is particularly invested, selling the ever-loving fuck out of lines like "the universe has been pacified for centuries," "You mean they could still be living in a primitive state of neurotic irresponsibility," and " I'm positive I can get you some sort of recompense from my government" and going about her business and costume changes with a smirk that is playful and knowing but never smug. It's impossible to laugh at the movie when it is so gleefully in on the joke.
I suppose I was too full of myself to realize that enjoying this beautiful nonsense along with the stars was even more fun than the condescending and cynical trip I wanted to take.
None of this explains why I wasn't having an excessive machine-level response to Jane Fonda back then, though. I'm amazed I didn't watch the film a million times just to see her boobs over and over again.
(I am making up for lost time now.)
Movie of the Week 1.5: Arena (An Absurd Notion) (1985)
While I'm on the subject of the film that gave one of pop music's most deceptively weird bands their name, I might as well plug the aforementioned 1985 concert film. Make a double bill of it!
Arena is a sequel to Barbarella in the sense that Duran Duran and director Russell Mulcahy enlisted Milo O'Shea to reprise his role as the villainous Durand Durand because… well, because they felt like it, ok? A large part of Arena's appeal is that it is a truly bonkers work of self-indulgence by a band and an iconic video director at the peak of their creative powers and financial resources. There's no way this thing should have been made, but I'm so glad it was.
The basic plot is that Durand Durand shows up on Earth because he thinks people love him, but then he finds out that they actually love the band Duran Duran. In a fit of jealousy, he sets out to kidnap and kill their fans over the course of a concert. There's also what is essentially a backdoor pilot for the cinematic adaptation of William S. Burroughs's The Wild Boys thrown in the middle. Because this is Duran Duran we're talking about, this post-apocalyptic story about young gay men has random boobs in it.
I won't go into much more detail here, because my friend and Duran chronicler extraordinaire Morgan Richter has already written the definitive texts on the matter. One of them is in her book, Duranalysis, which is single-handed responsible for pushing me from general Duran Duran fandom to Duranie-hood. The other is here. I also wrote something about the movie for A Side a few years ago.
But I will mention that, in addition to all of the above, it features a random sex scene between two robots in a pool of goo. Mostly so that I can make the following segue:
Song of the Week: "Electric Barbarella" - Duran Duran
Speaking of Duran Duran and robot fucking!
This song is about fucking a robot. Perhaps you've heard that it's a metaphor for falling in love with and/or banging a woman. Perhaps you just assumed that it was actually about a human, because why would a band almost two decades into a lucrative career filled with songs about humans suddenly be like "Hey, you know what's been missing from our oeuvre? A song about fucking a robot!"
Well, the logline answer is "because Duran Duran." The abridged version is that singer and primary lyricist Simon Le Bon started to struggle with creative burnout in the early 90s and keyboardist/galaxy brain Nick Rhodes took on more of the lyrical responsibilities. And when you let Nick Rhodes do things, they usually end up being amazing… and amazingly fucked up. One of the things he is particularly good at is writing songs that he thinks — or at least claims— are metaphors for women when they are really quite literal explorations of fucking things that you probably shouldn't. (See also: "The Man Who Stole A Leopard" which is undeniably about fucking a leopard.)
"Electric Barbarella" was the first single off of 1997's largely forgotten and underrated Medazzaland album. An album so forgotten that I didn't even realize that the song was from Medazzaland until a couple of years ago. And I liked it when it came out! I just happened to think it was a special single recorded for the greatest hits comp that was released the following year. In my defence, though, I was probably distracted by the minor scandal that the "Electric Barbarella" video caused on Canadian cable.
(After airing regularly for at least a few weeks, the video was pulled from MuchMusic and Music Plus for being in bad taste, or possibly for being boring based on the disinterested statements Much gave MTV at the time. I have distinct memories of watching an entire Too Much For Much episode dedicated to the banning of the video, although I'm starting to suspect this might be an instance the Mandela Effect. Especially because I remember them airing the full-boobed version of "Girls On Film" directly after the special ended, and that couldn't have happened for real, could it? I spent years trying to tell people of Much's great hypocrisy re: airing boobs in the middle of the night while decrying a video about a sex robot getting her revenge, though.)
I could write about "Electric Barbarella" at great length — and I've been trying to get someone to pay me to do so for years now — but this newsletter is long enough as it is, so I will leave you with a few pertinent facts and observations:
the song is about romancing and banging a robot, but the video is about Duran Duran purchasing a sex robot, doing a shit job of putting on her lipstick, and generally treating her poorly until she rightfully murders them

it features the lyric "emotionless and cold as ice, all of the things I like" which is both fantastic and very Nick

no one wants my "Duran Duran Tried To Warn Us About The Sex Robots" pitch

there's absolutely nothing about this song that relates to the other Barbarella in any way

it is totally about fucking a robot